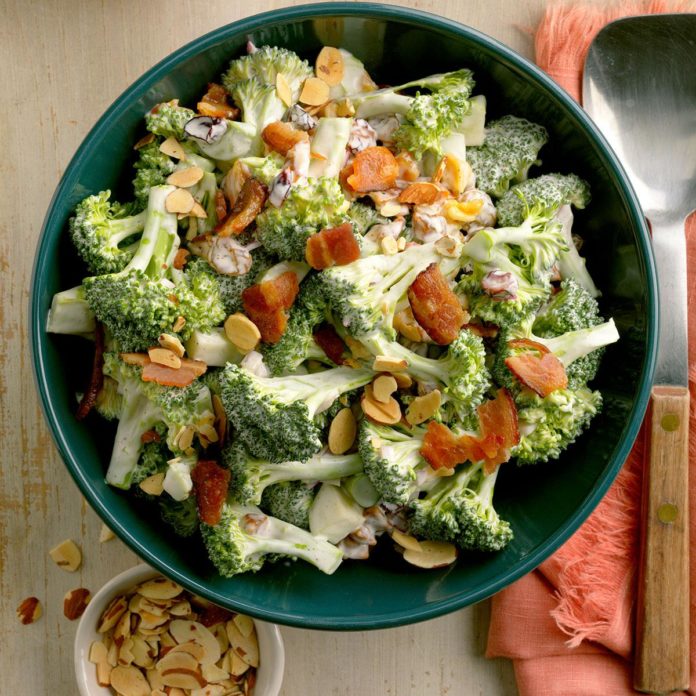 You will need…
1 bunch broccoli (about 1-1/2 pounds)
1 cup mayonnaise
1/4 cup red wine vinegar
2 tablespoons sugar
1/4 teaspoon salt
1/2 teaspoon freshly ground pepper
1 package (7 ounces) mixed dried fruit
1/4 cup finely chopped red onion
1 package (2-1/4 ounces) slivered almonds, toasted
4 bacon strips, cooked and crumbled
DIRECTIONS
Cut up broccoli florets into one inch pieces.
In a small bowl, mix mayonnaise, vinegar, sugar, salt and pepper. In a large bowl, combine broccoli, dried fruit, and onion. Add mayonnaise mixture; toss to coat. Refrigerate until serving.
Just before serving, sprinkle with almonds and bacon.
Enjoy!!!
For even more flavor, toast nuts by baking at 350° for 5-10 minutes in a shallow pan, or cook in a skillet over low heat until lightly browned, stirring occasionally.
Nutrition Facts
3/4 cup: 236 calories, 17g fat (3g saturated fat), 1mg cholesterol, 180mg sodium, 21g carbohydrate (15g sugars, 3g fiber), 3g protein.