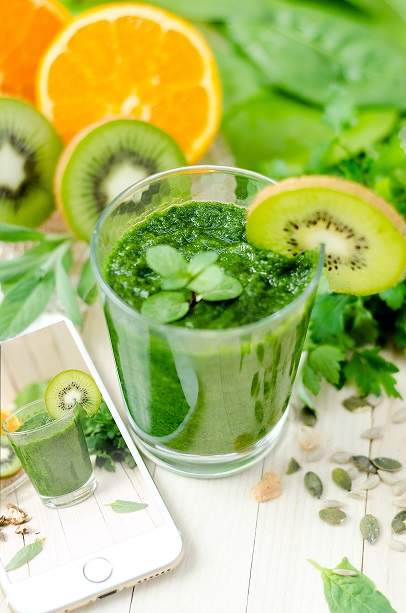 Want beautiful, glowing skin? Of course you do! Green smoothies are nothing new, but this one is too good not to mention.
Most people don't get enough veggies, especially the dark, leafy greens packed full of vitamins and nutrients. Greens like kale and spinach are low in sugar and they keep you feeling full for longer because of their high fiber content.
In addition to these veggies being just overall good for you, your skin benefits from the vitamins, minerals and antioxidants. These help ward off inflammation which can result in a number of skin issues like dry skin and eczema but they can also can protect your skin against further damage and the dreaded "w" word we all hate… wrinkles.
So try out this smoothie recipe, it's so good, you'll barely know it's packed with veggies. And it will give you the health and beauty boost your looking for! So whip up that smoothie, throw on your best bikini, grab your sunscreen and head out to enjoy the beautiful summer weather!
Spinach, Kiwi and Avocado Smoothie
Ingredients:
1 cup spinach
2 kiwis, peeled
½ – ¾ avocado, peeled
1 ½ cups coconut water
Blend all ingredients. Add vanilla whey or pea protein powder for a high protein option. Delicious!